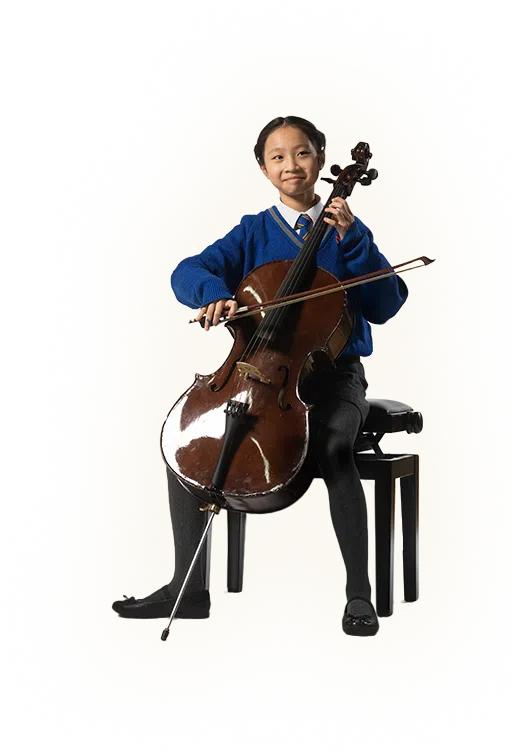 Music, Art and the dramatic arts form the fundamental core elements of what we do at St. John's. While children receive a first-class academic education at St. John's, it is those who know how to communicate, how to express themselves and be able to convey what they are thinking with clarity and diction, who stand out as exceptional. Children who leave St. John's go on to interviews and lead others with this core principle and come back to tell us that their preparation on stage, how to illustrate and how to use their voice are all aspects that gave them the confidence to achieve what they wanted to in their future professional, social and personal goals.
Music
Music at St. John's takes place in a multi-purpose classroom, which houses all of the school musical instruments away from the rest of the school. Children are free to explore music making within various areas of study. The school also houses a suite of purpose-built practice rooms for children to practise during the school day and attend their individually arranged music lessons if they so wish.
At St. John's, we believe that music is of prime importance. It provides the very fabric upon which the school operates and it is taught holistically to promote wholly confident and assured young musicians. Time is given on the timetable to the various disciplines it teaches. We have found that the pupils who go on to study music to a high level succeed in ways beyond their imagination and are highly intellectual in other subjects.
Art
From the moment a child steps into the Art Studios at St. John's it is our desire as specialists to transport them, immerse them in the wonders of creativity. The earliest form of communication was images on cave walls, since then, we have developed a need to express ourselves through the medium of art. This is ever present at our school. The energy of the art rooms at St John's is electric; it pulses throughout the school on the walls, in the hearts and in the visual colours of displays and exhibits. Art at St. John's is about experiencing all aspects of life and living it within the school. From the moment a first mark is made, a child has created something and from there the journey continues and grows. The art Departments have placed the greatest emphasis on the individual child's creative journey. It is our aim to instil and nurture our pupils to develop a love and wonder of art. From the youngest to the oldest child, we give them the opportunity to own their own identity through their artwork. There is no measure or restriction placed on that need and we will always strive to give every child a platform to feel proud and confident through the process of creation.
Performing Arts
At St. John's an extensive range of Enrichment Activities is provided for students to enhance learning that has taken place in the classroom. These activities help students to make accelerated progress, attain more highly, develop important personal skills and attributes and to enjoy their studies.
Our Enrichment and Extra-Curricular Programme runs throughout the school year, offering students additional opportunities and experiences beyond the school day. Parents/carers are asked to support the school by ensuring that their child takes part in enrichment and extra-curricular activities at every opportunity. Children take acting exams annually based on the course they followed throughout the year.